Association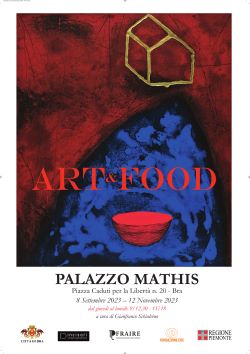 "Art&Food - L'incisione nel terzo millennio"
by Gianfranco Schialvino
Palazzo Mathis
Piazza Caduti per la libertà 20 - Bra (CN)
Opening: Friday 8th September, 2023 at 6 p.m.
The exhibition will be open until November 12, 2023
WorldWide Prints project
At the end of 2019 we launched a project that aims to collect small prints from all over the world to raise awareness of how are prints are made in the five Continents. At the moment about 500 artists from 60 Countries have signed up. A section of our website is dedicated to the project and you
can find here
the project description, the images of works collected so far and the artists's biographies.
Recently we added to the project a new section, separate from the artists one, dedicated to students of Academies/Universities from all over the world.
Slideshow of some exhibitions held in Italy and abroad
In the course of its activity, the Association has held nearly fifty exhibitions in Italy and in other seven Countries in Europe, Asia and South America.
Here you will find a slideshow
with images of some exhibitions openings
Association description
A document that describe our Association with the list of exhibition held since its foundation in 2013 and the relationships that have been established with international Institutions and Associations can be downloaded from here