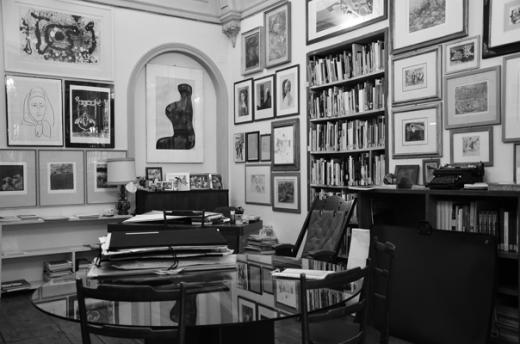 Il Bisonte is a foundation specialized in the study of printmaking.
With its precious heritage of art, knowledge, craftsmanship and tradition to be transferred to the new generations of talents, Il Bisonte represents one of the highest education sites and the meeting point for artists from all over the world. Here, the treasures of knowledge are respected and handed down by educating young artist with an open, customized, and less conformational didactic system. While making them aware of their contemporaneity and showing them how to grasp the expressive outcomes of their time without staining the noblest tradition.
The School
Il Bisonte successfully raises the bar on art education, with a commitment to excellence, and a mission to help students to reach their creative potential.
The school is the main concern of the Fondazione "Il Bisonte – per lo studio dell'arte grafica". The foundation was established in order to foster and to teach printmaking techniques (traditional and contemporary), promoting the taste for printmaking and art prints and contributing to studies and researches in this field. The school has inherited the tradition and spirit of the printworkshop of the same name, which was founded in 1959 by Maria Luigia Guaita and it is housed in the atmospheric and ancient former stables of Palazzo Serristori in San Niccolò, one of the Oltrarno's most picturesque and lively neighborhoods.
The Gallery
Since 1959 Il Bisonte hosts exhibitions of art prints from Italian and International artists.
The gallery of the foundation Il Bisonte is the space in which are set up our exhibitions of art prints, meetings and book presentations. In the gallery is also the library dedicated to art and printmaking, composed of more than three thousand volumes, in a space filled with objects and with the walls covered by lithographies most representative of the Il Bisonte history.
At the gallery are stored, accessible by appointment, the historical archive – with at least one print for each of the editions (more than one thousand) made by the Il Bisonte art editions – and the archive of the donations received.
Last but not the least the secretary office is located in the gallery.